Je suis super contente d'être à nouveau parmi vous, dans le monde du scrap digital.
Ces derniers mois n'ont pas été de tout repos puisque j'ai donné naissance à ma seconde fille, Mia.
Elle est née le 29 mars dernier et depuis, c'est que du bonheur !
Une petite photo de mon amour de bébé, prise 7 jours après sa naissance :
J'ai attendu d'avoir trouvé mon rythme pour être sûre de pouvoir me consacrer au scrap assez longtemps et vous proposer des kits qui me ressembleraient vraiment.
Je suis à la recherche de guests pour les prochains mois. Ca vous dirait de faire un petit bout de chemin avec nous ?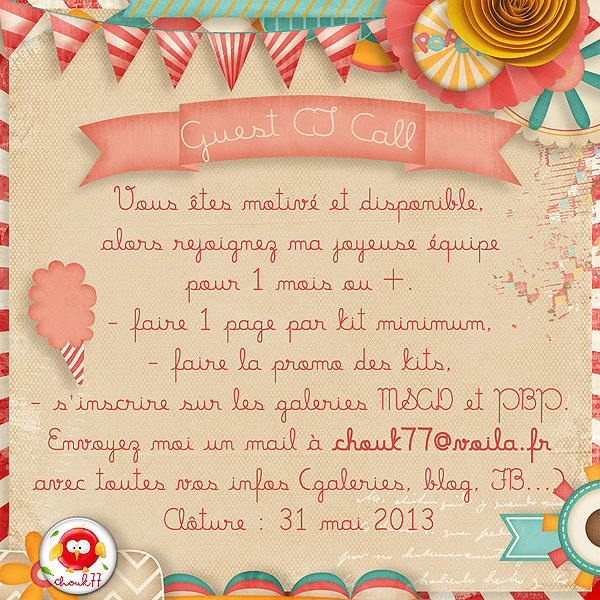 Vous êtes motivé et disponible,
alors rejoignez ma joyeuse équipe
pour 1 mois ou +.
- faire 1 page par kit minimum,
- faire la promo des kits,
- s'inscrire sur les galeries MSAD et PBP.
Envoyez moi un mail à chouk77@voila.fr
avec toutes vos infos (galeries, blog, FB...)
J'attends vos mails avec impatience ! A très vite,
**********************************
I'm really happy to be with you again in the world of digital scrapbooking.
These past few months have not been easy since I gave birth to my second daughter, Mia.
She was born on March 29 and since this is happiness!
A small picture of my baby love, taken seven days after his birth:
I waited until I found my pace to be sure I can devote myself to scrap long enough and offer kits that really look like me.
I am looking for guests for the coming months. Do you want to do a little way with us?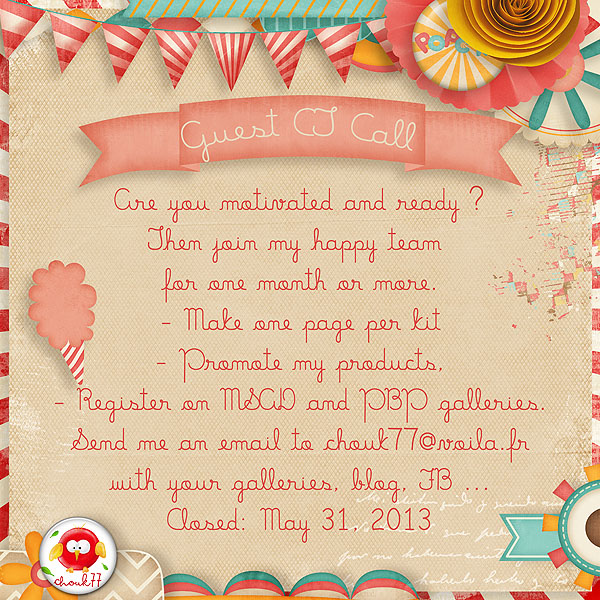 Are you motivated and ready ?
Then join my happy team
for one month or more.
- Register on MSAD and PBP galleries.
Send me an email to chouk77@voila.fr
with your galleries, blog, FB ...
I look forward to your emails!